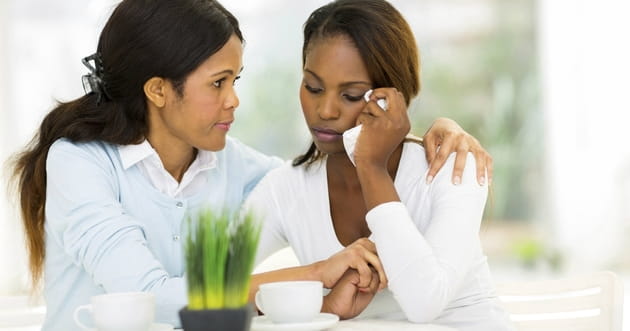 Have you, a friend, or loved one suffered from pregnancy loss? After serving for two years on a hospital high risk pregnancy floor, this article is a reflection upon my experience and the wisdom I garnered walking with women through it. You'll find an excerpt below and a link to find the full article. If you feel a pull in your heart to share it, please send it on. We're stronger together, especially walking hand in hand. My love to you moms...
When I worked as a hospital chaplain, I was called into a variety of rooms and circumstances. Some of the most heartbreaking were the phone calls that I received from the Labor and Delivery ward in the event of pregnancy loss. I saw the broken heart and dreams in the parent's eyes, I sometimes saw the baby laying motionless, and I wept tears I believe Jesus would weep in those bitter moments.
I still remember one afternoon that I got a call from the Labor and Delivery nursing staff. They requested a chaplain because a mother was clutching her stillborn child and refusing to let it go. It had been some time, and the staff was getting concerned. I walked into the room to find the mother nestling her child in a swaddling blanket. The father was bent over the bed.
As I approached the bed, the infant under the blanket came into view. It was neither fully grown nor fully formed. There were hallowed sockets where eyes should have been. While the child did not have skin nor a defined skeleton, the mother clung to its weight. She pulsed with an unconditional, fierce, yet tender love for her child. It was a moment of insurmountable love and utter brokenness.
While God is a God of life and wholeness, our world knows death and brokenness too. We have a call as people of faith to come alongside those who are hurting, to be the hands and feet of Jesus, and to plant seeds of hope and light in the blackness of night. When the pain is all too real, there's a salve that's all too needed. Brokenness can be mended by intentional community, and community done in Jesus' name is that much stronger...
While stillbirths occur about one in every one hundred and sixty pregnancies in the United States, the rate of miscarriage is roughly one in every four known pregnancies. That means miscarriage will statistically touch our lives either personally or through someone we know.
Its prevalence demands that we know how to sensitively and effectively handle it. Yet what tends to happen is that it is not mentioned or addressed at all. People who are grieving are wary to share in their vulnerable state. Others are uncomfortable dealing with loss in general.
What's needed are some simple guidelines for creating a safe place to share and usher in healing. For those of you who are looking to be that safe place, here are six ways that you can support a friend who is grieving pregnancy loss: